If you've been given the responsibility of planning a special occasion, a big party or a formal celebration, you'll want to be sure that you're getting the best outside catering in the Dumfries area, and that's where Hog Roast Dumfries can help. We've years of experience in catering for all sorts of get-togethers, from formal, corporate events to big, informal parties.
Events in Dumfries are always special but why not make your event spectacular by hiring Hog Roast Dumfries to cater! Whether you are hosting a wedding, birthday, anniversary or even the unfortunate occasion of a funeral or wake we are here to help you plan the event, and take all the pressure of finding a caterer away. At Hog Roast Dumfries we are flexible to your needs!
Whether you want a centre piece hog roast with wait staff and canapés and rinks reception or a more laid back hog roast experience where we serve a buffet and guests help themselves – you just name it and we will do our upmost to accommodate your needs. When you hire Hog Roast Dumfries it is certain to be an event not to be forgotten. Slow roasted, and tantalising tasty meat is what we strive for ad we know it is the quality that keeps our clients satisfied time and time again.
Choose from a range of celebration menus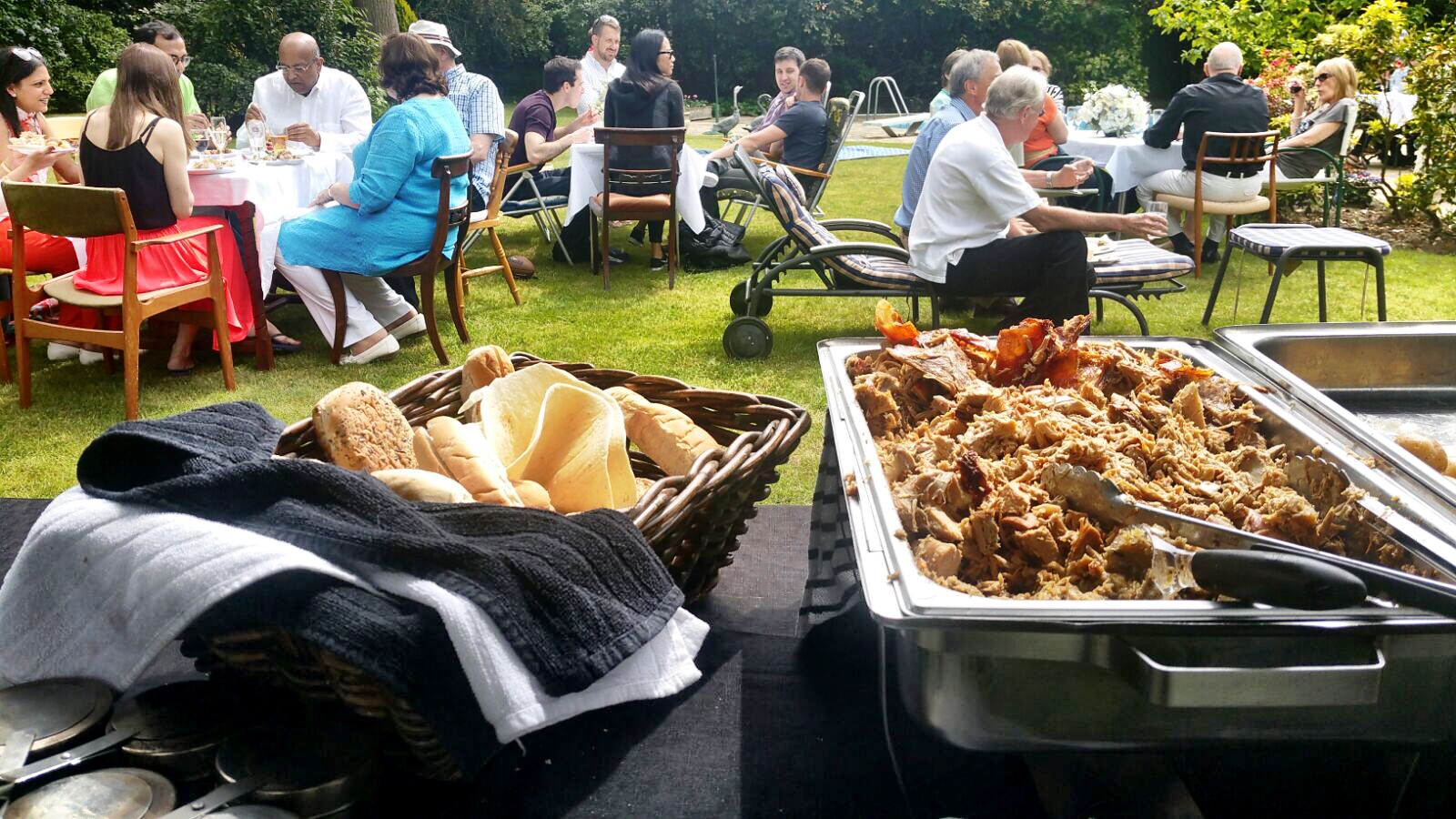 Whether you want a sit-down buffet style meal for your wedding or you'd rather just treat all your guests to hot, juicy slices of pork accompanied by fresh bread, salads, sauces and stuffing, we can help. We're well known for providing some of the best outside catering in Dumfries; we're professional, we're efficient, we're reliable, and we offer a great selection of delicious dishes that are sure to please each and every one of your guests.
While our signature hog roast is definitely our best seller, we also offer a variety of spit roasted meats, from the old favourites including lamb, beef and chicken through to more exotic choices such as ostrich, wild boar and venison. However, if you have a special type of meat in mind that you'd like to try, just let us know and we'll do our best to accommodate your wishes.
Although we are meat specialists, we also offer a wide range of delicious vegetarian and vegan alternatives and diverse buffet items, canapes, starters, desserts and side dishes. Our varied menus are designed to appeal to all tastes – just take a look at our party catering packages and you will see just how varied our selection is!
We take all the hassle out of catering for large events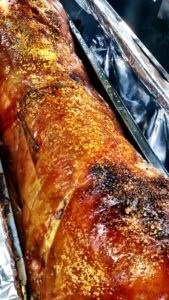 When you are all worn out from a day exploring Dumfries and experiencing all it has to offer Hog Roast Dumfries has a special treat in store to make sure you will want to visit again in the form of slow roasted, traditionally cooked catering.
Regardless of which type of menu you opt for or how many guests we are feeding, the Hog Roast Dumfries team will make every dish from scratch at your venue, utilising the freshest ingredients and best locally sourced produce. Our friendly and attentive team will ensure everyone is served swiftly and receives excellent care throughout your event. We will also handle all of the tidying up and rubbish removal when your event is over.
Hog Roast Dumfries can also supply everything from disposable plates to Royal Doulton dinnerware, plus we have marquees available to take care of any unexpected bad weather.
Hire a hog roast machine from Hog Roast Dumfries
If you've always wanted to try your hand at hog roasting, now is your chance! Hog Roast Dumfries offer hog roast machine hire in Dumfries and the surrounding areas. All our professional hog roasting machines come complete with enough gas to cook your chosen meats, and we can supply a locally sourced hog should you require one.
To make hiring a hog roast machine from us even easier, we will bring it to your premises, set it up for you and collect it again after you have finished with it. We won't even ask you to clean it after use either!